permutation
solver
calculator
Permutation solver is a calculator that prints out the number of ways that an integer can be arranged in an array.This calculator solves the problem of calculating the number of ways (permutations) of arranging n objects in a set, in r (n P r) time.
Solves permutation using the formula below.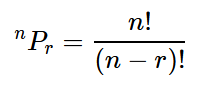 Where n = total number of objects in the set, and r = number of choosing objects from the set.